In Memory
Rodney Ward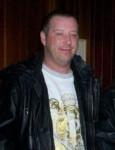 Rodney Lorne Ward, 52, of Connelly Springs, passed away unexpectedly at his residence on Tuesday, July 23, 2019.

Rodney was born December 27, 1966, in Catawba County to Fay Carter Lutz and the late John Wesley Ward, Sr. In addition to his father, he was preceded in death by his sister, Sara Malinda Ward.

Rodney had a big heart and loved nothing more than making people laugh. He was a wonderful son and took great care of his mother. He loved everybody and had many friends. He will be deeply missed.

Those left to cherish his memory are his mother, Fay Carter Lutz, two brothers, Ian Ward and John Wesley Ward, Jr. both of Connelly Springs, sister, Denise Overby of Henderson, N.C., and his closest friend, Sandra Huffman of Wilmington.

A celebration of life service will be held from 4:30 - 5:30 PM on Saturday, July 27, 2019, at Mt. Hebron Baptist Church in Connelly Springs. Burial will be held at a later date in Fairview Cemetery in Hickory.

In lieu of flowers, memorials may be directed to Bass-Smith Funeral Home in Hickory to help with funeral expenses.

Bass-Smith Funeral Home & Crematory in Hickory is serving the family of Rodney Lorne Ward.
http://www.bass-smithfuneralhome.com/obituary/Rodney-Lorne-Ward/Connelly-Springs-North-Carolina/1853358