In Memory
Lisa Ramsey (Huffman)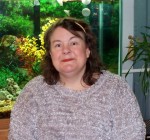 Lisa Lynn Ramsey Huffman, 51, of Hickory passed away Sunday, February 11, 2018, at her residence.
Born December 4, 1966, in Burke County, she was the daughter of Linda Hicks Ramsey of Hickory and the late Jimmy Ramsey.
Lisa was a 1985 graduate of East Burke High School. She loved listening to music, reading her Bible, enjoying her dogs and cats, and discussing current events.
In addition to her mother, she is survived by two sisters, Rebecca Brown of Spartanburg, SC, and Sara Ramsey of Morganton, NC; one brother, Roger Ramsey of Tennessee; two nieces and three nephews.
A memorial service will be held on Thursday, February 15, 2018, at 3:00 p.m. at Solid Rock Baptist Church in Granite Falls with Rev. Jerry Stines officiating.
The family will receive friends from 2:00 p.m. until 3:00 p.m. at Solid Rock Baptist Church in Granite Falls prior to the service.
Bass-Smith Granite Funeral Service is serving the family of Lisa Lynn Ramsey Huffman.
In lieu of flowers, memorials may be made to the Gideons International, 433 N Main Ave, Newton, NC 28658.
Online condolences may be made at www.bass-smithfuneralhome.com.